Romania is one of the largest countries in Europe. It's located in Southeastern Europe and is considered a Balkan country in Europe. If you are from Pakistan and planning to visit Romania then this guide will help you on how to apply for Romania visa in Pakistan in 2023.
Types of Romania Visas in Pakistan
Romania maintains an embassy in Pakistan located at sector F-7 in Islamabad. This embassy in Pakistan issues different types of visas to citizens of Pakistan including the below-mentioned categories for short-term and long-term purposes:
Medical treatment visa
Short-Term Schengen Visa
Family and friends visa
Work permit visa
Romania business visa
Long-term resident visa
Official mission visa
Family reunion visas
The Romania visa is not a Schengen visa. It's called a Romanian type-c visa that can be issued for any purpose such as tourism, visiting friends and family, business, and official duties. But it's valid for travel only to Romania and other non-Schengen countries such as Bulgaria and Cyprus. It's not valid to travel to Schengen countries such as Germany and Italy because Romania is not part of the Schengen zone yet.
How to Apply for Romania Visa in Pakistan?
Most of the Schengen visas are handled by VFS Global in Pakistan but Romania doesn't have any outsourcing agency to handle the visa application. Therefore, you will need to directly apply for a Romania visa at the embassy in Islamabad.
The address of the Romania embassy in Pakistan
House No. 5-A, Street 30, Sector F F 7/1 7/1, Islamabad, Islamabad Capital Territory 44000, Pakistan Phone number: +92 51 8436602
How to Get an Appointment for Romania Visa in Pakistan?
For submitting an application for a Romania visa in Pakistan, you don't need an appointment. You can directly go to the embassy and submit your application on a first come first served basis. However, this process may change in the future and therefore I suggest you call the embassy number mentioned above with the address and ask them whether the appointment is required or not. If an appointment is required then ask them how to book it.
What Documents are Required for Romania Visa in Pakistan?
Since Romania is not a Schengen country but still the visa requirements of Romania are similar to the ones required by Schengen countries. Especially we are discussing a tourism visa here and the following are the required documents for a Romania tourist visa in Pakistan.
Passport valid at least three months beyond the intended period of stay
ID card copy
2 recent colour photos 3 cm x 4 cm, on a white background;
Letter of certification of employment;
Booking of a two-way flight ticket to Romania;
Medical insurance valid in Romania, covering one day longer beyond the intended period of stay and of a value not less than 50,000 EUR (original and copy);
Proof of financial means in the amount of EUR 50/day for the entire period, but not less than EUR 500 or the equivalent in convertible currency;
Proof of accommodation, as a voucher of paid accommodation at a tourism unit
Polio vaccination certificate.
The visa fee is 80 USD.
Travel Insurance for Romania Visa in Pakistan
You can buy travel insurance from smartchoice.pk and you can select any of the insurance companies mentioned below that are accepted by the Schengen countries from Pakistan for valid travel insurance for the Schengen area.
Asia Insurance Co Ltd
Askari General Insurance Company Ltd
CICL (Century Insurance Company Ltd)
East West Insurance Company Ltd
EFU General
NJI (New Jubilee Insurance)
PICIC (Pakistan Industrial Credit Investment Corporation)
Premier Insurance Limited
Shaheen Insurance
SPI Insurance Company Ltd (formerly Saudi Pak)
TPL Direct Insurance Ltd
UBL Insurers Ltd
United Insurance Company (UIC)
Universal Insurance Co. Ltd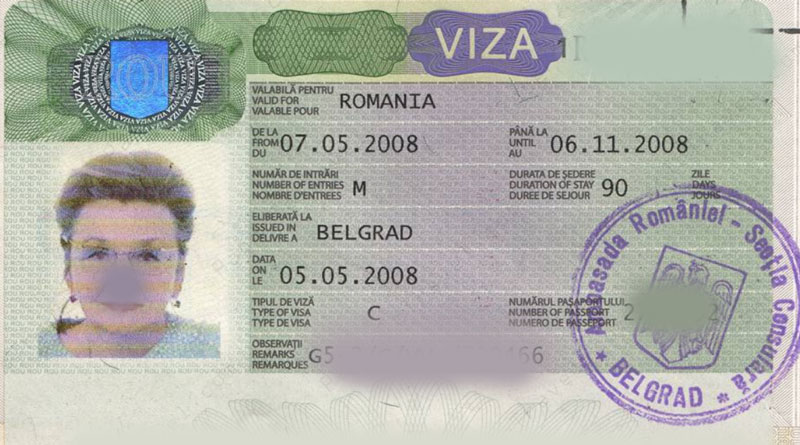 How much is the Romania Visa Fee in Pakistan?
The Romania visa fee in Pakistan is 80 USD for adults and 40 USD for children. Romania visa is not a Schengen visa but since the policy is very similar to a Schengen visa, therefore they charge an almost identical visa fee for a Romanian visa in Pakistan.
How long does it take to get a Romania visa in Pakistan?
The processing time for a Romania visa in Pakistan is 15 calendar days. This is a standard time for a tourism visa. If you are applying for a long-term visa at the Romanian embassy in Pakistan then it might take more time because of the verification of the documents.
Best Tips for Romania Visa in Pakistan
Romania is a very beautiful country in Europe and the visa gives you free access not only to Romania but also to Bulgaria and Cyprus. Therefore, you should submit proper and complete documents while applying for a tourist visa. In most cases, you will get a visa because Romania is a very tourism-friendly country in Europe.
Furthermore, you can go to Romania without a visa on a Pakistani passport if you have a valid multiple Schengen visa that's used at least once. If you are applying for a Romania visa to visit Europe then better to apply for a multiple-entry Schengen visa through Germany or Netherlands and once you obtain that visa then simply visit Romania.
Note: If you need visa consultancy for Romania or any other visa in Pakistan then we offer a paid consultancy by WhatsApp or Zoom in which you will be able to talk to Mr. Abdul Wali for 30 minutes and he'll guide you personally. Every person's situation is different and therefore, we give you the best possible advice according to your own situation. If you need an appointment then you can email (everyvisa5@gmail.com) or send a message on WhatsApp for booking an appointment on this number +923112127101.