Cambodia is a magical country located in Southeast Asia bordering Thailand, Laos, and Vietnam. It's basically sandwiched between Thailand and Vietnam. If you are here to get the exact information needed for a Cambodia visa in Pakistan or Cambodia evisa then you are at the right place. I will give you step by step process on how to apply for a Cambodia visa from Pakistan in 2023 and how to easily obtain a Cambodia evisa online.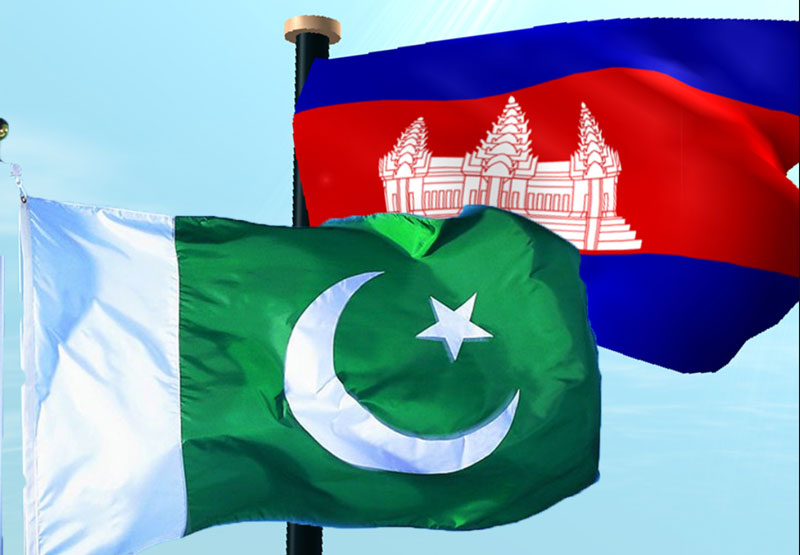 How to Apply for Cambodia Visa from Pakistan?
Cambodia's sticker visa is very good for travel history because it makes your passport look nice with the sticker visa. However, there is no Cambodian embassy in Pakistan so you can't get this sticker visa directly in Pakistan. But don't worry, you can easily obtain this sticker visa in any country of the world. Most of the time, we apply for Cambodia sticker visas in nearby countries such as Thailand, Malaysia, Vietnam, and Indonesia.
I have personally obtained a Cambodia sticker visa on my Pakistani passport two times once in Thailand and once in Vietnam. It took an hour to get this beautiful sticker visa on my passport. You just need to find the embassy address and go there with the following documents and you will get the visa on the spot.
Cambodia Visa Requirements for Pakistani Passport
Below are the documents required for a Cambodia sticker visa and you can take some of these documents from Pakistan which will make the process easier and faster.
Passport valid for 6 months
Visa application filled (they will provide)
Two photographs (White background)
Copy of valid visa of that country
Bank statement (optional)
Flight reservation
Hotel booking
$50 USD cash
Please note that some Cambodian embassies may ask for additional documents. You will know that when you visit the respective embassy.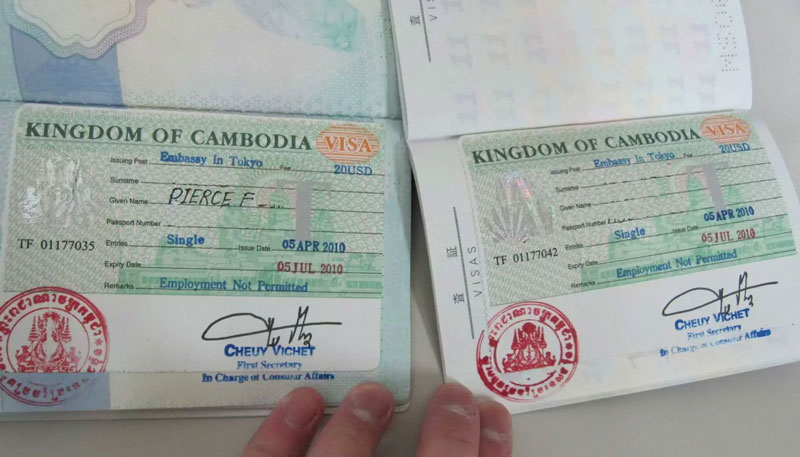 How to apply for Cambodia evisa in Pakistan?
The easiest way to obtain Cambodia Evisa is to apply online on the official website and you will be able to get this within 3 working days. You need to upload a few documents and pay the visa fee online. I have also obtained Evisa a few times in the past for myself and my clients and it was the easiest process ever.
You will need to upload the following documents while applying for Cambodia evisa online on Pakistani passport. You can apply from anywhere in the world.
Passport's scanned copy
Photograph with white background
Flight reservation
Hotel booking
Bank statement
Any other document
Visa fee $42
Please note that you can upload any other document such as US Visa, UK visa, or FRC etc to make your application more solid. You can pay by credit card or debit card.
Cambodia Visa Service in Pakistan
If you are not able to apply for Cambodia Evisa in Pakistan then we are here to help you out. You can contact us for Cambodia Evisa and we will apply for you for a small fee. You will need to just send us your passport's scanned copy, photograph, and intended date of travel. We have done it for many clients in the past and we can do it for you as well.
We charge $10 extra for providing this service and you will be able to obtain your visa without making any mistakes. So the total cost of your visa will be $52. Please make sure to contact us by email (everyvisa5@gmail.com) or message us on WhatsApp if you want to avail of this service in Pakistan. We are always there to help you out with any visa in Pakistan.
Must have documented before traveling to Cambodia
These are a few important documents and requirements that you must fulfill before traveling to Cambodia. If you ignore these requirements then you will be in trouble at the airport when you will go to the boarding counter of the airline. They will strictly ask you for these documents and if you don't provide them then they will not issue a boarding pass.
$1000 USD in cash
Return ticket
Hotel booking for the entire stay
Evisa or sticker visa
Passport valid for 6 months
Whenever I visited Cambodia, they strictly asked me for these documents. They made a lot of trouble when I first time visited Cambodia without having these documents. Secondly, the immigration in Cambodia will also ask you for these documents when you land there. Lastly, don't travel by road from Thailand to Cambodia if you have a Pakistani passport, always take a flight. Otherwise, you will be sent back from the border.
Do Pakistani citizens need visa for Cambodia?
Yes. Pakistani citizens need a visa for Cambodia. However, they have two options i.e. Sticker visa and evisa. The latter one is easy to obtain.
How much does a Cambodia visa cost?
It depends on the type of visa you apply for and whether it's an online evisa or an offline sticker visa. However, the evisa generally costs $42 and the sticker visa will cost $50 USD.
Can I apply for a Cambodia visa on arrival?
If you are a Pakistani citizen then this is not possible. You must obtain a Cambodian visa in advance before departing for Cambodia.
How can I go to Cambodia from Pakistan?
You can go to Cambodia by obtaining a visa and then buying a flight ticket. You also need to have $1000 Cash, a return ticket, and hotel booking before you can even board the flight to Cambodia.
Can I work on a visit visa in Cambodia as a Pakistani?
No. You can't work on a visit visa in Cambodia. If you want to work then you must either obtain a work permit or apply for a business visa.
Is there a Cambodian embassy in Pakistan?
Currently, there is no Cambodian embassy in Pakistan but we hope they will open an embassy in Pakistan very soon.