If you are planning to visit Thailand then you need a visa. A Thailand visa is required for Pakistani citizens but it's not very difficult to obtain. I have visited Thailand many times and this visa is usually straightforward. I will share the step-by-step process with you. Thailand is not on the list of visa-free countries for Pakistani passports.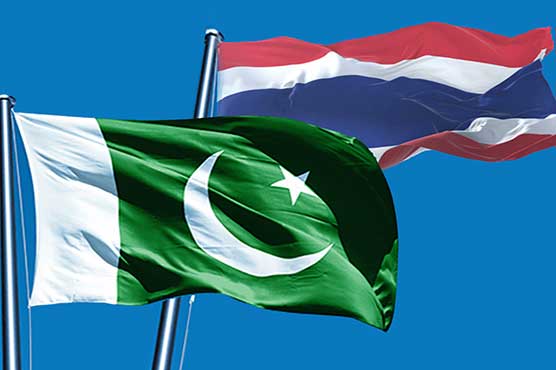 How to Apply for Thailand Visa from Pakistan?
If this is your first time in Thailand, then you have to go to the Thai embassy or consulate personally. If you have already visited Thailand once, then you can apply through a travel agency or Visa dropbox. Once you obtain your first visa, for the second time, you can just drop your application to any travel agency or visa Dropbox service that handles Thai visa applications in Pakistan. How to apply for a Canadian visa from Pakistan?
We can arrange a Thailand visa for you in Pakistan if you don't want to apply for a Thailand visa yourself. Just contact us via email or WhatsApp and we will be ready to serve you.
Thailand Visa Requirements for Pakistani Citizens
Whether you are visiting Thailand for the first time or the second time, you have to provide these documents. However, The Royal Thai Consulate in Karachi has a slightly different list of documents, and the embassy in Islamabad has a different set of requirements. And for your reference, I will add a link to their official website.
General Requirements for Thailand Visa:
1. Passport valid for six months
2. Old Passports (If any)
3. Two Visa Applications Forms (Filled & Signed)
4. Two Passport size photos
5. Copy of your C.N.I.C on A4 size
6. Copy of your passport – first four pages
7. Bank statement for the last 6 months (Rs.200,000 min. balance)
8. Bank account maintenance certificate
9. A letter from your employer stating your job & salary
10. NTN certificate (if you are a business owner)
11. Flight Reservation or Confirmed ticket
12. Hotel Booking
13. One Blank cross cheque (Required in Karachi)
14. Affidavit on Stamp Paper (Required in Karachi)
15. Family Registration Certificate (If going with family)
16. Marriage Certificate (If going with wife)
17. B-form (if kids are going with you)
18. Tourist visa fee Rs.5000 (Single entry)

Note: You can download the visa form from the official website of the Thai consulate in Karachi and the embassy in Islamabad. Please go to the links, scroll down in the PDF file and you will see the exact updated requirements consulate/embassy.
You don't need an invitation letter for a Thailand visa in Pakistan.
Thai Embassy Islamabad: Download Visa form & Requirements Islamabad
Thai Consulate Karachi: Download Visa Form & Requirements Karachi
You can also obtain these visa forms at the consulate or embassy. But better is to take a printout at home and take the filled form with you to avoid the hassle.
The official website of Gerry's for Thailand visa: Visit Gerry's Website for Information
Remember, residents of Khyber Pakhtunkhwa, Punjab, and Kashmir can submit their applications at the Islamabad embassy. While residents of Sindh and Balochistan can submit their applications at the Karachi consulate. If you had a Thai visa in the past then you don't need to visit the embassy or consulate yourself, you can apply through an agent.
Visa Fee & Processing Time for Thai Visa
Thailand offers many types of visas to citizens of Pakistan. They have different fee structures for different visa types. I will list the fee below with the visa type for your understanding.
Tourist Visa Single Entry: Rs.12000 (Valid for 3 months – stay up to 60 days)
Tourist Visa Multiple Entry: Rs.36000 (Valid for 6 months)
Transit Visa Single Entry: Rs.12000 (Valid for 3 months)
Transit Visa Double Entry: Rs.25000 (Valid for 3 months)
When you submit your application to the Thai consulate in Karachi, you'll get a receipt from the visa officer after your case is approved. They will mention the date on that receipt for returning your passport. You should go to the consulate on that date and get your passport back. It takes five working days for the embassy to issue a visa.
Important Note: submitting visa application timing is 8:30 AM to 10:30 AM, and returning passport timing is 11 AM to 12 PM. This timing and process are for the Karachi consulate because I have always applied for my visa at the Karachi consulate. But for Islamabad, it should be similar and you can check on the official website.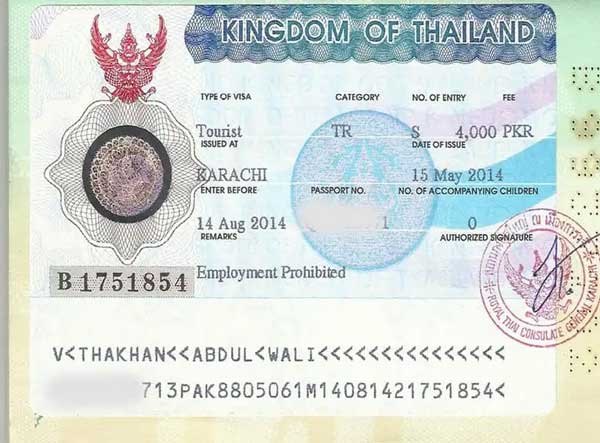 Tips for Thailand Visa in Pakistan
If you are going to Thailand for the first time then you will have to prepare your documents. You can take the help of a travel agency that is doing this for many travelers. You can also prepare the documents yourself as I always do it myself. But if you have a time issue and it seems to be a hassle to you then hire someone and they'll charge 2000 to 3000 PKR for this. We can apply for Thailand visa on your behalf if this is your first time.
Please be advised that they will conduct a short interview when you apply for the first time. Just be calm and answer the questions with confidence. Take genuine documents with you for a visa and don't lie in your application. Thailand visa is not that difficult but if they catch you with fake documents or they detected you are lying then it will be very difficult for you.
Requirements for Travel to Thailand from Pakistan
Now here is the tricky part; you got the visa and now it's time to travel. You need to be ready to face Pakistani immigration while departing and Thai immigration on arrival in Bangkok. If this is your first time then you can face a little bit of a problem at the Pakistani airport but everything should be fine if you remain calm and answer what's asked.
Please prepare the following documents and keep them with you all the time while traveling from Pakistan to Thailand and they might ask you this.
Confirmed Return Ticket
Valid Thai Visa
$500 USD in Cash
Confirmed Hotel Booking
These are the basic requirements that they might ask during your immigration in Pakistan and also on arrival in Thailand. But generally, everything should be fine without any issues.
Note: If you need visa consultancy about a Thailand visa or any other visa then I offer a paid consultancy by WhatsApp or Zoom in which you will be able to talk to me for 30 minutes and explain your situation. You can book an appointment for visa consultancy by contacting us via email (everyvisa5@gmail.com) or by messaging us on WhatsApp: +923112127101.
How can I find budget hotels in Thailand?
There are a lot of budget hotel options in Thailand. In fact, Thailand is considered one of the cheapest countries in South Asia. I would highly recommend visiting Agoda for booking your hotels in advance. You can simply put the city name and your dates, and it will show you the best and cheapest options within seconds.
Is Thailand safe for solo females?
Of course! Thailand is one of the safest places for female solo travelers. Thailand has tourist police who are very quick in response if tourists have any problems while staying in Thailand.
Are there Halal restaurants in Thailand?
Yes! there are now too many Halal restaurants, especially in big cities like Bangkok, Pattaya, and Phuket. Thailand has more than 5% Muslim population and the Halal food culture is now very common.
How much are daily expenses in Thailand?
The answer to this question depends on your lifestyle and what you want in Thailand. Generally, for an average tourist, Thailand is a very affordable place and can easily be covered for $30 to $40 a day including everything from food to accommodation and sightseeing.
Thailand visa for Pakistani in 2023?
The covid 19 restrictions in Thailand are completely removed and now you don't need any PCR or other test to visit Thailand. You can visit without any health requirements.