If you are planning to visit Turkey from Pakistan in 2023 then you will have to apply for a visa. I have been to Turkey numerous times and I will share the exact process with you to obtain a Turkish visa on a Pakistan passport + Turkey evisa and business visa for Pakistani citizens.
Note: If you need visa consultancy about a Turkish visa or any other visa then I offer a paid consultancy by WhatsApp or Zoom in which you will be able to talk to me for 30 minutes and explain your situation. You can book an appointment for visa consultancy by contacting us via email (everyvisa5@gmail.com) or by messaging us on WhatsApp: +923112127101.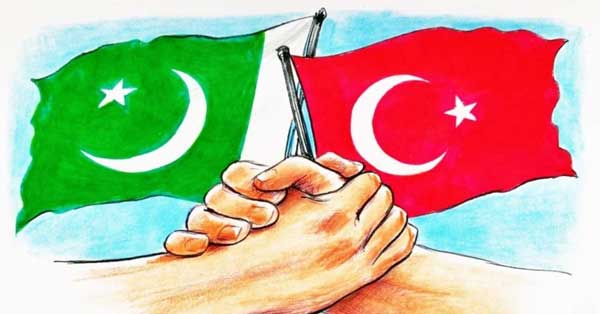 How to Apply for Turkey Visa from Pakistan?
This is a step-by-step guide to applying for a Turkish visa in Pakistan. The process involves a few things like how many days you want to stay in Turkey and what type of visa you want to apply for. Once you know the type of visa and the requirements then it's easy for you to arrange the documents and start the process yourself.
Types of Turkey Visas in Pakistan
Turkey offers various types of visas but we will only discuss the ones which are commonly applied by ordinary passport holders. As such, a visit visa or tourist visa is the most common one which is a short-term visa issued with a validity of 90 days and stays up to the travel itinerary provided by the applicant.
The second commonly sought Turkish visa is a business visa which is also issued in line with a visit visa but the requirements will be slightly changed for a business visa. That takes us to another point which is the requirements for a tourist visa and business visa.
You can also apply for Turkey's eVisa which will work for both tourism and business purposes. This visa you can apply online by going to this official website. However, you will need to have a valid US visa, Schengen, or UK visa on your Pakistani passport before you can apply for a Turkish evisa online. For a sticker visa, follow the process below.
Turkey Visa Requirements in Pakistan
Here I will explain the exact requirements you need to fulfill and apply for a Turkish visa. I will tell you the criteria for both business visas and visit visas. If you are applying for visiting Turkey as a tourist, then you have to make a plan/itinerary which you can write in your "covering letter."
Required Documents for Turkey visa in Pakistan:
1. Visa application form duly filled and signed by the applicant
2. Passport copies of 1st and 2nd page and all used pages
3. Travel insurance (Coverage up to 30,000 Euro)
4. Polio Card
5. Last Six Month Bank Statement
6. Bank Account Maintenance Certificate
7. Copy of flight booking (Reservation)
8. Copy of Hotel Booking
9. Two (2) recent photographs (White Background)
10. All Previous Visas Photo Copy
11. Last Three Months' Salary Slips (If doing a job)
12. Employment Letter (if doing a job)
13. Business Documents with NTN (if doing business)
14. Bonafide Letter (If The Applicant is a Student)
For a business visa, all of the above documents will be required except for an employment letter and student letter because you will be applying as a businessman.
For a business visa, you need the Chamber of Commerce certificate and an invitation letter from the company in Turkey who have invited you to Turkey. In case, you are going to meet a business person or have an official meeting with a company based in Turkey.
You can also submit other relevant business documents such as your company bank statement, NTN, Taxi returns, and business card. The exact requirements you can get from Anatolia travel agency which acts as a visa application center for Turkey's visa in Pakistan.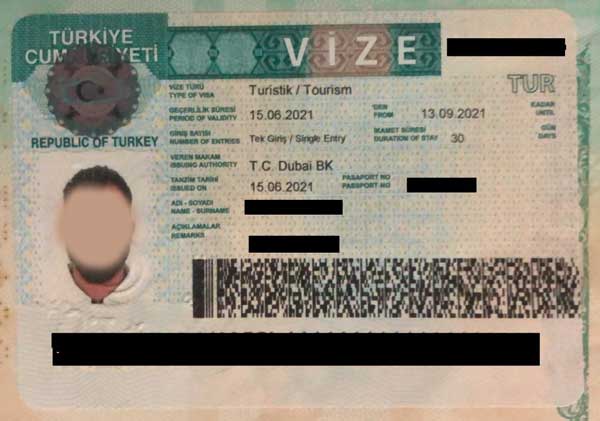 Step-by-Step Process to Apply for a Turkish Visa in Pakistan
Now that you know about the requirements and documents. It is time to apply for a Turkey visa in Pakistan. If you have a valid US visa or UK or Schengen visa then you don't need to follow this process. You can simply apply for Turkey's evisa online.
A company called Anatolia Travel Services currently processes visa applications for Turkey. This company has visa application centers in many cities of Pakistan i.e. Karachi, Lahore, Islamabad, Quetta, and Peshawar.
To start the visa process, you have to visit Anatolia Travel Services in your city. They will provide you with the application form which you have to fill out with all the correct information. You can get the step-by-step Turkey visa process on the Anatolia Services website. You can also fill out the visa application form in advance here online.
However, most of the time, they don't accept the already filled form because they say there is some mistake. This happened to me when I went there with already filled out visa application forms and they didn't accept them due to very minor mistakes in the visa form. They said Turkey's embassy and consulate are very strict in filling the format in the form.
Turkey Visa Processing Time & Interview in Pakistan
Now, this is a hard time when you apply for a visa and then wait for the good news to come. The Turkish visa process takes 15 calendar days on average because many people apply for a visit visa from Pakistan. Sometimes the application may take 3 to 4 weeks depending on a number of factors such as verification, incomplete documents, and further background checks from the Turkish Ministry of Foreign Affairs in Ankara.
Sometimes it even takes a few days like 5 to 6 days to receive your visa. In my case, it only took one week and they called me to collect the passports. Anatolia Travel Services will usually call your office for employment verification and maybe they will call you for a short interview overcall. This call may come from the embassy/consulate directly too.
Turkey Visa Fee Structure & Service Charges
The Visa fee for Turkey's short-term visa is Rs.45,000, which includes the visa fees, Anatolia service charges, and insurance for the entire duration of your trip. This fee was very less before a few months but the Anatolia travel services agency has increased it recently.
The above-mentioned fee is for a single-entry visa. The validity of the single entry visa is 3 months and you can stay for the number of days that are mentioned on your visa clearly. They will usually issue a visa for the number of days you mention in your application.
If you want to apply for a multiple entry visa then that will cost you Rs.80,000 and it will be valid for one year from the date of issue. However, if you have been to Turkey in the last three years, only then you can apply for a multiple-entry visa.
Important Tips for Turkey Visa
Remember, you have to speak the truth in the visa application and never submit a fake document. They will verify all of your details and submitted documents and if they found something wrong then it will get you into trouble.
You can get flight reservations from any travel agency for free. Just tell them you want a reservation for visa purposes. You can book get "refundable" hotel bookings from Agoda because that's the best website for finding the best hotels with the cheapest rates.
Always try to provide complete documents and listen to what Anatolia Travel Services agents say because they are handling these things every day and don't argue with them. The Turkish embassy has some weird rules but you have to follow them because there is no other choice.
Turkey Evisa for Pakistani Passport
As I mentioned somewhere above, you can also get an Evisa to Turkey if you have a valid US Visa or UK visa, or a Schengen visa on your passport. I have used this option many times and it's very easy to get this visa online. It takes only 20 minutes to obtain this visa and costs $60 USD which is to be paid online. It's a kind of free visa for a Pakistani passport.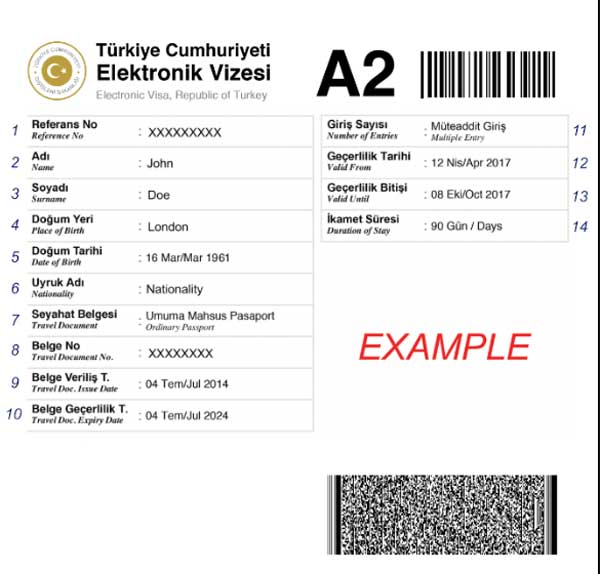 Please visit this website to apply for Turkey evisa: Official Turkey Evisa Website
The only requirement is to have a valid visa for the countries, as mentioned above. It doesn't have to be multiple entries or used. It should just be valid when you enter Turkey, and that's all. I have used a multiple-entry US visa as well as a single-entry Schengen visa for this purpose, and it has always worked.
Frequently Asked Questions Related to Turkey Visa in Pakistan
How much is Turkey visa for Pakistani?
Turkey's single entry visa official fee is Rs.12,000 and Anatolia will charge Rs.8000 as a service fee so the total cost for a Turkish visa will be Rs.20,000.
Is Turkey visa free for Pakistani 2022?
No. Turkey has never been visa free for Pakistan's ordinary passport holders. However, it's visa-free for official passport holders.
How much bank balance is required for a Turkish visa?
The simple answer is the more the better. However, if you have enough money in your bank to cover the trip to Turkey, that's should be enough.
Do Pakistani nationals need visa for Turkey?
Of course. Pakistanis need a visa to enter Turkey and they must obtain a visa before starting their journey. If Pakistani passport holders have valid US or Schengen visas on their passports then they can obtain evisa online.
Do you need an invitation letter for Turkey?
Generally, an invitation letter is not required for Turkey. However, if you are going on a business trip then you can get one invitation letter from the inviting party in Turkey and submit it with the visa application.