Want to apply for a Schengen visa in Pakistan? if yes then read the complete article carefully and understand the complete process and requirements for a Schengen visa in Pakistan.
The Schengen visa is one of the important visas for travelers like me. because this visa unfolds the massive Schengen area which covers 4.3 million km of landmass and 26 countries in the European continent. I finally obtained this valuable sticker from the Netherlands after two refusals from Italy. I'll share the experience and visa process with you.
Why my Schengen Visa was Refused before?
I applied in March 2017 for a Schengen visa at the Italy consulate in Karachi through Gerry's. I provided all the relevant documents and the purpose of the visit. Before that application, I had visited the US and had a valid multiple-entry US visa on my Passport, and also had visited many other countries.
I was called for an interview at the consulate and was asked different questions such as what is my job, what is my income, and one specific question which was about my purpose of visit.
I told them, I'm going on tourism to visit the historical places in Rome and Milan. they asked me about the names of the places to be visited in Rome which I didn't know. and so they refused my visa application. actually, I couldn't satisfy the visa officer and didn't provide a detailed day-to-day itinerary and names of the places.
I again applied in October 2018 at the same Italy consulate. this time, I addressed the reasons and provided a detailed itinerary as well as more supporting documents such as property documents and business documents. However, shockingly, my second application got refused by Italy within 5 days. and I was shocked to see the straight rejection.
After that, I researched on the internet and found 95% of answers that don't apply for at least 2 years after two refusals. even some of the European experts advised me to not apply again because it'll be rejected. but I applied again to the Netherlands and got the visa.
How to Apply for Schengen Visa from Pakistan?
You can apply for a Schengen visa from a country that is in the Schengen area agreement, most of the time, you can apply through a visa application center in your country. I applied through Gerry's in Karachi, Pakistan.
The Schengen Area countries are Germany, Austria, France, Italy, The Netherlands, Latvia, Lithuania, Estonia, Hungry, Czech Republic, Slovenia, Slovakia, Switzerland, Denmark, Iceland, Norway, Finland, Poland, Sweden, Liechtenstein, Luxembourg, Belgium, Portugal, Spain, Greece & Malta.
You can apply to any of the above-listed countries for a Schengen visa, and if granted, you'll be able to visit all of these countries with a valid Schengen visa. however, if you are confused about the Schengen country for applying for the visa then there is a simple rule for that.
Apply to the country where you'll spend most of the days of your trip in the Schengen area. that's called the main destination in the Schengen, in case your days are equal then you can apply to the country where you'll enter first in the Schengen area.
But this is not a strict law, you can enter any Schengen country with a valid Schengen visa and can exit from another Schengen country. However, for future visa applications, it's good to use your Schengen visa to enter the country which you mentioned in your application and you can exit from any other country. that's not an issue at all.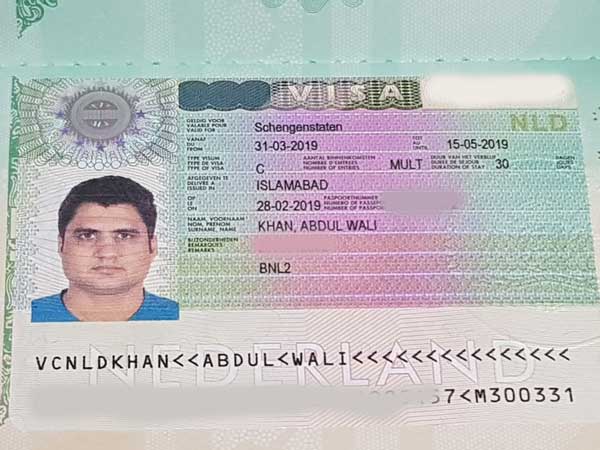 Required Documents for Schengen visa in Pakistan
I'll share with you the exact list of documents that I attached with my third Schengen visa application and the reason for the purpose of my visit. these are general requirements for a Schengen visa, but some embassies have a slightly different process such as Italy asking for one original set of documents and one copy of the entire document list. but the Netherlands doesn't require a copy of the entire application.
Here is the list of the exact documents required and which I submitted with my Schengen visa application to the Netherlands:
1) Application form filled and printed
2) Two Photographs
3) Passport
4) Bank Statement of 6 months
5) Flight reservation (not paid)
6) Hotel Booking (not paid)
7) Employment Letter
8) Leave Certificate from Employer
9) Last 3 Months' Salary Slips
10) Medical Insurance coverage of $50,000
11) Family Registration Certificate (FRC)
12) Passport copy + copies of all past visas & stamps
13) CNIC photocopy
14) Covering letter which with day-to-day activities of the trip
15) NTN certificate & last 3 years' tax returns
After submitting my application, I received it back after 20 days. I requested 08 days stay and a single entry visa, but they issued me a multiple entry visa and 30 days stay which is good to explore the beauty of the Netherlands and a few more countries in the Schengen area.
Note: If you need visa consultancy about a Schengen visa or any other visa then I offer a paid consultancy by WhatsApp or Zoom call in which you will be able to talk to me for 30 minutes and explain your situation. You can book an appointment for visa consultancy by contacting us via email (everyvisa5@gmail.com) or by messaging us on WhatsApp: +923112127101.
My Tips for Getting Schengen Visa in Pakistan
Duration of your Trip
Since getting the Schengen visa for the first time is one of the difficult things, I would advise making a short, clear, and understandable itinerary according to your financial situation and budget. don't include too many countries in the first application, plan a trip for only one Schengen country or two and when you have the visa, you can later change your plan if you want to visit more countries. As I also visited 15 countries on the same visa.
Time of the Year to Apply
Apply ahead of time, legally, you can apply for a Schengen visa three months prior to your travel date. try to apply in the low season, so the embassy/consulate has enough time to study your application. May, June, and July are very busy months for European embassies around the world because that's the time when more applications are received than average.
Make Travel History
If you are going for tourism then first try to genuinely visit other popular tourist countries such as Thailand, Malaysia, Vietnam, United Arab Emirates, Maldives, Sri Lanka, Azerbaijan, Turkey, etc. that will make it clear that you are a genuine tourist and usually travel out of your country for tourism purposes. You can go to visa-free countries with a Pakistani passport in order to make some budget-friendly travel history.
Make Strong Financial & Professional Background
Last but not least, keep your financial records clear and clean. for example, if you are employed then keep your salary slips with you and also credit your salary in your bank account through proper channels such as a bank cheque from the company credited into your account. if you have savings in your personal account other than your salary then do explain this in your cover letter to the embassy so they can better understand your financial situation. That's like telling your story to the teacher who should believe it.
Conclusion
After two refusals, I obtained a Schengen visa and I'm very excited to visit the European Union. I also got the lesson that anything is possible when you try again and again. Make your case strong and better when you apply again. I will say that if one country refuses your visa then don't apply again to that country, apply to a different and bigger Schengen country.
Watch my video guide about the Schengen visa
Which Schengen Visa is Easy in Pakistan?
As far as I personally know, most of the Schengen countries have the same or similar requirements for Pakistani passport holders and there is no such easy Schengen visa. However, some countries have more approval rates than others including Spain, Italy, and the Netherlands because these countries are tourist-friendly countries in the Schengen area.
How much does a Schengen visa cost in Pakistan?
The Visa fee for adults is 80 Euros (payable in PKR), and 40 Euros (payable in PKR) for children between 6-12 years of age; the visa fee will NOT be reimbursed if the visa is refused, regardless of the reasons for the refusal.
How long does it take to get a Schengen visa in Pakistan?
The general rule of processing time for a Schengen visa is 15 calendar days. However, in my case, it took 20 days, and in some cases, it may take up to 30 days depending on the workload. This includes the time between the visa application center and the embassy/consulate.
How much bank balance is required for a Schengen visa?
There is no exact requirement for a bank statement. However, I would personally suggest having enough funds in your bank account that can easily cover the cost of your trip. Schengen has a uniform policy for per day cost in the Schengen area and that's $50 Euro a day.
Is a Schengen visa difficult to get in Pakistan?
In my opinion, it depends from case to case. If you have a strong case like you have a very good professional background, travel history, and family ties to Pakistan then there shouldn't be a problem in getting a Schengen visa in Pakistan. If your visa is refused then simply apply again and you will get it as I did after two refusals. If your case is not strong then simply work on your case and make it strong before applying.
How can I go from Pakistan to Europe?
Once you obtain a Schengen visa, you can go to most of Europe. With a Schengen visa, you can visit all 26 Schengen countries, and also you can visit Romania, Bulgaria, Croatia, and Cyprus which are not part of the Schengen area but part of the European Union. You can also visit Bosnia & Herzegovina, Serbia, Albania, Georgia, North Macedonia, and Montenegro with a valid multiple-entry Schengen visa.