If you are thinking to visit Indonesia then you need to apply for an Indonesia visa from Pakistan. Indonesia is a beautiful country in Southeast Asia and I have recently visited it myself. I will share my experience in obtaining an Indonesian visa from Pakistan.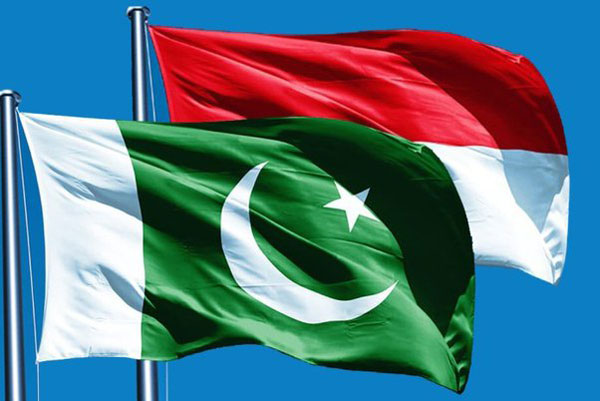 How to Apply Indonesia Visa from Pakistan?
If you are a permanent resident of Khyber Pakhtunkhwa, Punjab or Kashmir then you have to visit the Indonesian embassy in Islamabad in order to apply for an Indonesian visa.
If you are a permanent resident of Sindh or Balochistan then you can apply at the Indonesian consulate in Karachi. I live in Karachi, so I applied for a visa in Karachi.
The Consulate of Indonesia is located in Karachi at the below address:
Address: Block 5 Clifton, Karachi, Karachi City, Sindh 75600
Phone: (021) 35874619 Email: karachi.kjri@kemlu.go.id
Website: https://kemlu.go.id/karachi/en
The embassy of Indonesia in Islamabad is located at below address:
Address: Gamal Abdul Naseer Rd، Ramna 5 Diplomatic Enclave, Islamabad, Islamabad Capital Territory, Pakistan. Phone: +92 51 2832017 Website: http://www.kbri-islamabad.go.id
You can also write in Google "Indonesia Consulate Karachi" and you'll find the address as well as Google Maps for this consulate in Karachi. it's not difficult to find in Clifton. Similarly, you can write "Indonesia embassy in Islamabad" and you will find the address and location of the embassy in Islamabad without any hassle.
Indonesia Visa Requirements For Pakistani Citizens
Now the tricky part of an Indonesian visa is the requirements which are very strange for some reasons. first of all, when you go to the consulate for submitting your application, the lady at the counter isn't that professional in dealing the visa applicants. It's not an easy visa process like a Malaysia visa or Thailand visa in Pakistan.
Update: Now the lady has changed and the new lady is somehow working fine. she will ask you basic questions about why you want to visit Indonesia and for how many days. that's it.
They do have a website which I think they have not updated for the last 200 years. Therefore, it is always better to call them and ask for the latest requirements.
Update 2: Indonesia has started evisa for tourists. This evisa can only be applied through a sponsor in Indonesia. It will cost almost three times more than the current visa fee of Indonesia in Pakistan. If you need evisa directly issued from Indonesia then please contact us via email or WhatsApp and we can arrange it for you from Indonesia.
When I visited the consulate in 2022. The following were the exact requirements to apply for an Indonesian visa in Karachi.
1. Two visa applications filled with two photographs (white background)
2. Covering letter requesting a visa, and mentioning all the details of the visit as well as your job/business and must be on company letterhead where you work or do a business
3. Bank statement of last 6 months + maintenance certificate
4. Confirmed hotel booking for each day in Indonesia
5. Return flight ticket (I submitted a reservation)
6. Original passport and previous passports
7. Copy of the passport's first three pages (A4 size)
8. Copy of CNIC (A4 size)
9. NTN and Registration in case of businessman
10. Visa fee in PKR equivalent to $50 USD to be paid in the bank
Note: After you submit the visa application, they will give you a payment voucher to pay the required fee in the bank (they will tell you which bank), you will go to that bank and pay the fee and you will come back to the consulate with the payment slip.
Best Tips for Getting Indonesia Visa in Pakistan
I was asked to provide an "Undertaking Letter" which I didn't know what it was. it turned out that the travel agent who has booked my flight should provide me with this letter that I have to take to the consulate with me. I told the lady that I have booked the ticket myself and after then she accepted my visa application without that freaking letter.
For visa applicants from Punjab who apply in Islamabad, they must also submit a "Police Character Certificate" in addition to the above-listed documents.
This is a must in Islamabad. I don't understand why the same country requires it in Islamabad and not in Karachi (but you know visa rules are always strange & weird). You can obtain this certificate from a police station in your city.
If you are going to Indonesia for 5 days then they will issue you only 6 days visa, which means, you can only stay for 6 days in Indonesia. Therefore, choose your stay wisely.
I mentioned in my application that I will stay for 8 days and they issued me a visa to stay for only 10 days. Below is the snap of my Indonesia visa where you can clearly see the maximum stay is only 10 days. That's why mention more days if want to stay longer.
Note II: If you need visa consultancy about a Indonesia visa or any other visa then I offer a paid consultancy by WhatsApp or Zoom in which you will be able to talk to me for 30 minutes and explain your situation. You can book an appointment for visa consultancy by contacting us via email (everyvisa5@gmail.com) or by messaging us on WhatsApp: +923112127101.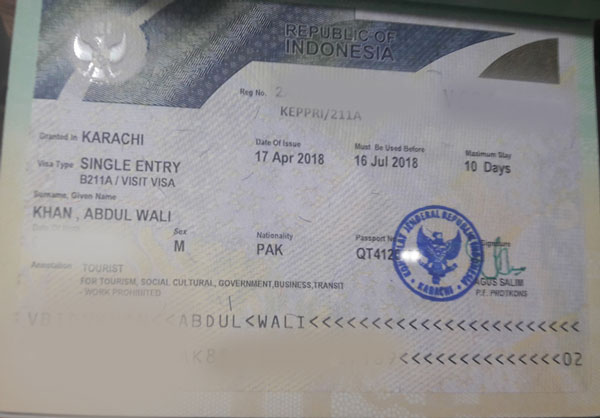 Frequently Asked Questions for Indonesia Visa in Pakistan
How much is an Indonesian visa from Pakistan?
Indonesia visa cost is Rs.13,700 according to the current USD rate because they will charge you PKR equivalent to $50 USD on the day of visa application submission.
Can a Pakistani visit Indonesia?
Of course! any Pakistani citizen can visit Indonesia with a valid visa. That's why I'm sharing this visa guide with you.
How can I get a Bali visa from Pakistan?
Yaar! Bali is in Indonesia so you will need to obtain an Indonesia visa in Pakistan in order to visit Bali in Indonesia. Bali is a beautiful island with a lot of Australian tourists in Indonesia.
Is Indonesia visa open for Pakistani?
Yes! Indonesia visa is currently open for Pakistani passport holders and you can apply for an Indonesia visa in Pakistan at the consulate in Karachi or the Indonesian embassy in the capital Islamabad.
Can I go to Indonesia without a visa?
No, you can't go to Indonesia without a visa because Indonesia requires Pakistani citizens to obtain a visit visa before traveling to Indonesia.
How much bank balance is required for an Indonesia visa?
There is no exact answer but if you have around 3 Lakh PKR in your Pakistani bank account then it should be fine. I had something similar and they didn't make any problem with the bank balance.
How can I apply for an Indonesia visa online?
Indonesia does have an evisa online but that's not for Pakistanis. As a Pakistani citizen, you have to apply for an Indonesian visa at the embassy in Islamabad or the consulate general of Indonesia in Karachi.
How Expensive is Indonesia for Pakistani Citizens?
The Indonesian currency is also called Rupiah. When I visited, it was $1 = 14,000, which means you will easily be a millionaire in Indonesia. It's not that expensive for Pakistani citizens because most of the important things such as transport, accommodation & food are not expensive.