If you are planning a visit to Singapore; also called one of the Asian tigers in Southeast Asia then you will need to apply for a visa if you are holding a Pakistani passport. Singapore has completely removed the sticker visa, and now they only issue evisa. Unlike a Thailand visa in Pakistan and Malaysia visa in Pakistan, a Singapore visa is not that easy to get. If you are planning to visit Singapore in 2023 on Pakistan passport then read this guide.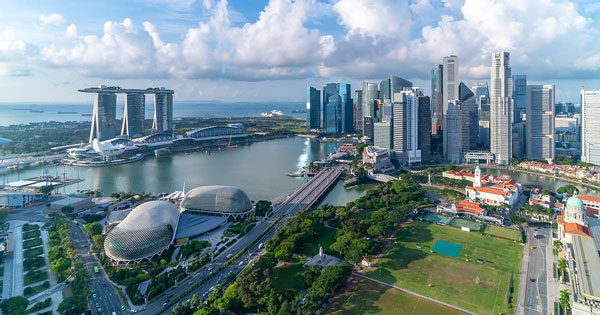 Things to Know Before Applying for Singapore Visa in Pakistan
First of all, let me clear your confusion about how the visa is processed. The honorary consulate in Karachi just collects the visa application and they do not issue the visa. The visa is processed by Singapore immigration. Singapore immigration is unpredictable with processing times and decision-making.
As per the latest trends. Normally when the visa is issued, it takes only 3 to 4 days. When the case is put on hold, that takes a lot of time. When your case is taking more time like 10 to 20 days. That means the visa will be refused. In very few cases, the visa was approved after a longer processing time. They do some background checks on your profile.
This is according to the latest trends of Singapore visa in Pakistan. One of the strange aspects of the Singapore visa process is that they do not ask for travel history and bank statements. They just decide on the basis of an LOI and a scanned copy of your passport. That's why the visa outcome is unpredictable.
Sometimes, if a husband and wife apply for a visa, they will refuse the wife and grant a visa to the husband. Same happened with me when I once applied with my family. They refused my visa and approved my kids and wife's visa.
How to Apply for Singapore Visa from Pakistan?
There are two ways to apply for a Singapore visa from Pakistan. You can visit the honorary consulate general in Karachi to apply yourself or you can do it through your contact in Singapore. Your contact in Singapore is someone (your friend or relative) who can arrange an LOI (Letter of Introduction) for you. This is a type of invitation letter in which the sponsor will write their details and will mention your details for inviting you to Singapore.
Other than the LOI, you just need a photograph, the visa application form filled out, and the photocopy of your passport biodata page. You can find this information on the official website of Singapore Immigration here. You will need a photocopy of your CNIC too.
The Singapore Visa fee is Rs. 10000 if you apply yourself (with the LOI from your friend or relative in Singapore). If you apply through a travel agency then they may charge a different fee because they will arrange an LOI for you. We can also arrange an LOI for you.
Address Of Singapore Consulate in Karachi:
Lakson Square Building No 2
Sarwar Shaheed Road Karachi, Pakistan
TELEPHONE(+92) 21 3568 8243 / 6419
(+92) 21 3568 5308
FAX(+92) 21 3568 8067
(+92) 21 3568 0093
EMAILsingaporecg@cyber.net.pk
Singapore Immigration Website
After you apply for a Singapore visa in Karachi then you will have to wait for the outcome. In most cases, you will get a decision in 3 working days. In some cases, it will take a lot of time and you will have to wait. They keep your passport but I think you can get your passport back if you need it for some other task. Because they keep the passport with them without any reason (the visa is applied online).
My Best Tips for Singapore Visa in Pakistan
I am going to give you a few important tips about a Singapore visa. I visited Singapore recently and have obtained a visa two times. The first tip I can give you is to mention a few days in the application. Singapore is a small country that can be explored within 3 to 4 days easily. If you mention 10 days, that will not make sense and most probably, they will refuse your visa.
I will personally mention 5 days for visiting Singapore. The second thing is to try to get an LOI from a friend or relative in Singapore. If you do not have a friend or relative in Singapore then find someone who knows someone in Singapore. If you can't find someone then as a last resort, please contact us so we can arrange an LOI for you in Singapore.
The LOI and visa both will cost you around Rs.15000 to 20,000 these days and if it's refused then all that money is gone. The chances of success are 50/50 so make sure you are ready to lose 15K to 20K PKR when your visa is rejected. I'm saying this because a lot of visas got refused despite people having a valid letter of introduction (LOI) from Singapore. A visa is not guaranteed.
We Can Provide You with a Letter of Introduction (LOI) and Visa Service for Singapore
We can provide you with a visa service for Singapore. We will arrange for you a letter of introduction from Singapore and the sponsor will apply for your visa in Singapore. You will receive a tracking number to track your visa online. It's Evisa, so you don't need to go anywhere to collect the visa. Once it's approved, you will receive the visa via email. If the visa is rejected then the money is not refunded.
Note: If you need visa consultancy about a Singapore visa or any other visa then I offer a paid consultancy by WhatsApp or Zoom in which you will be able to talk to me for 30 minutes and explain your situation. You can book an appointment for visa consultancy by contacting us via email (everyvisa5@gmail.com) or by messaging us on WhatsApp: +923112127101.
Frequently Asked Questions Related to Singapore Visa in Pakistan
How much money is required for a Singapore visa?
As I mentioned earlier, the total cost for Singapore evisa is around Rs.15,000 because the USD to PKR rate is now very high. The actual fee of a Singapore visa is less but travel agents charge different amounts for arranging the letter of introduction (LOI).
Can a Pakistani travel to Singapore?
Of course. Pakistani citizens can easily travel to Singapore with a valid visit visa. Singapore is located in Southeast Asia near Malaysia and it's one of the best places for Pakistani passport holders.
How much does it cost to go to Singapore from Pakistan?
Singapore is an expensive country because it's a developed high-income country. That's why it will cost a lot when going to Singapore for tourism. The minimum cost you can expect is $100 USD per day.
Is Singapore visa open for Pakistani?
Yes. Singapore visa is open for Pakistanis right now and the covid-19 restrictions have been relaxed from April 1, 2022.
Can I Visit Singapore on a Budget?
That's very difficult but still possible. There are places in little India where you can find a hostel for $20 per night easily and then we have Dhaba restaurants where you can get a meal for $10. So yes, it's possible to do Singapore for $50 per day.
What language do they speak in Singapore?
They speak a lot of languages. There are four main languages spoken in Singapore. The majority is Mandarin Chinese, Malay, and also Tamil. But English is widely spoken and understood by almost everyone in Singapore. People in Singapore live peacefully and respectfully.
Is it easy to get a Singapore visa in Pakistan?
The chances of a Singapore visa in Pakistan are 50/50 even with a letter of introduction and I'm saying this because of the latest trends.