South Africa visa for Pakistani passport holders is a fairly simple process. You have to prepare a list of documents that are required for a South Africa visa in Pakistan. However, I did this process myself recently and I will guide you step by step. It's not visa-free for Pakistan.
The South African high commission is located in Islamabad and they will receive the visa application through Gerry's which is a visa-handling third-party service in Pakistan. If you are residing in Sindh or Balochistan province then you can also submit a South African visa application through Gerry's visa application center. I applied from Karachi.
Required Documents for Applying South Africa Visa in Pakistan (Visa Requirements)
Valid passport
Previous passports
Visa application
Two photographs
Covering letter
Bank statement for the last six months
Bank maintenance certificate
Employment letter (if doing a job)
Business documents (if doing business)
Study letter from University (If student)
Hotel booking
Flight reservation
Yellow fever certificate
CNIC & passport copy
Visa Fee: Rs.3700
This is the very basic list of documents that you need to provide while applying for a South African visa in Pakistan. If you have been to one of the African countries where Yellow fever is common such as Kenya, Tanzania, and Uganda then you will have to provide a Yellow fever certificate. If you have not been there then it's not required.
How to Apply for a South African Visa from Pakistan? A step-by-step process for Pakistani passport
The process is quite straightforward. You have to first go to the VFS website which in coordination with Gerry's handles South African visa applications in Pakistan. You will have to book an appointment online for South Africa visa by paying $50 USD online (funny. the visa fee is less than the appointment fee).
After you have booked the appointment online, simply print it and take it along with your documents to Gerry's office on the mentioned date. Your application will be processed by Gerry's either in Islamabad, Karachi or Lahore, etc.
Please visit the VFS official website for South Africa by Clicking Here.
Gerry's Office addresses in Pakistan
Islamabad Office: South Africa Visa Application Centre Park Road,
Chattha Bakhtawar Chak Shahzad, Islamabad
KARACHI Office
South Africa Visa Application Centre
Bahria Complex IV, 4th Floor, Main Chaudhary
Khaliq UZ Zaman Road. Gizri, Clifton,Karachi
Lahore Office: 20 Ex American Centre Building Opposite, Ganga Ram Hospital Queens Road, Lahore, Pakistan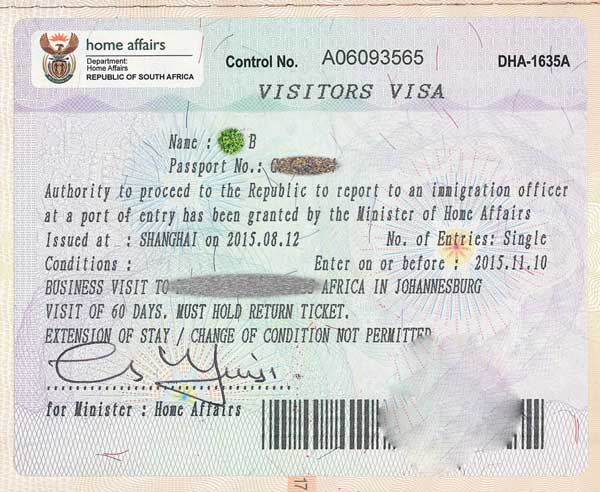 South Africa Visa Processing Time in Pakistan
The visa process normally takes around 10 to 15 days. However, in my case, it took 22 days because my application was delayed due to Gerry's irregularities despite paying them Rs.2500 for a fast-tracked application. They did nothing but simply scammed me by taking Rs.2500 for extra service but they did nothing extra.
Actually, they charge you Rs.2500 if you want to verify your documents with them before submitting the application to the embassy. They said it will fast-track the application. I grabbed that service, but my office did not receive any call from Gerry's for verification. That's a big scam from them because it's simply a lie. Don't take that extra service.
Note: If you need visa consultancy about a South Africa visa then I offer a paid consultancy by WhatsApp or Zoom in which you will be able to talk to me for 30 minutes and explain your situation. You can book an appointment for visa consultancy by contacting us via email (everyvisa5@gmail.com) or by messaging us on WhatsApp: +923112127101.
Watch my video guide on how to apply for a South African visa in Pakistan
How much is a visa from Pakistan to South Africa?
The total cost of a South Africa visa in Pakistan is Rs.13,700. The visa application center will charge $50 USD and the embassy fee is Rs.3700 which you have to pay on the day of submission.
How long does it take to get a South African visa from Pakistan?
It takes around 15 working days. In some cases, it may take more than 15 days as in my case it took 22 calendar days.
How much bank balance is required for a South African visa?
There is no exact amount required in the bank. However, it should be enough to cover the expenses of your South African tour.
Is South Africa safe for tourism?
Cape Town and Durban are absolutely safe for tourism. Johannesburg is a little bit risky but you should take care all the time. I would suggest only exploring in day times and don't go out in the dark.
How Expensive is South Africa?
South Africa is not very expensive if we compare it to Europe and North America. However, it's expensive as per Southeast Asia standards. You can still manage on $50 per day with accommodation and food included. We did it for $50 a day easily. We were two people and we shared a room.
How much hotel room will cost in South Africa?
Hostels and hotels are available everywhere in big cities such as Cape Town and Durban. You can also find a hostel for as little as $10 bucks per night. I personally use Agoda for booking cheap hotels all over the world.
What About Food in South Africa?
If you are looking for Pakistani and Indian food then it's available in tourist cities like Cape Town and Durban. We even found Lal Qila restaurant in Johannesburg which invited us for dinner.
What to Visit in South Africa?
South Africa has a great list of natural and historical places that you can visit during your trip. However, it will entirely depend on how many days you have in South Africa. If you are going for less than a week then you can only explore Cape Town. If you have at least 10 days then I would strongly suggest covering Cape Town and Durban too. If you are into wildlife then Kruger National Park is a must for those who like wildlife and safari games.
Top tourist attractions in South Africa
Don't forget to visit Table Mountain, Cape of Good Hope, Bo-Kaab, Castle of Good Hope, and Penguin Colony in Cape Town. Johannesburg is full of Nelson Mandela's history and residence. Pretoria is the capital of South Africa and that's also a nice place to visit.
Conclusion of South Africa
Although, the embassy of South Africa in Islamabad is very slow in processing visa applications and not professional in any way. But I must say that South African people are very friendly and chilled out. I would suggest sticking to Cape Town and exploring in the daytime to be on the safe side. Because bad guys can appear anywhere in no time. South Africa is full of people from other African countries such as Nigeria, Zimbabwe, Malawi, Botswana, and many others. South Africa is like the America of Africa.