I recently visited Uzbekistan, it was a wonderful experience to visit Samarkand and Tashkent in Uzbekistan. Uzbekistan is not a visa-free country for Pakistani passport. However, we can easily obtain an Uzbek visa by getting an invitation letter from someone in Uzbekistan. I will explain in a step-by-step guide on how to apply for Uzbekistan visa from Pakistan in 2023.
How to Get an Invitation Letter for Uzbekistan Visa in Pakistan?
Pakistani passport holders generally need an invitation letter for a visa to Uzbekistan. They might not need this thing if they arrange the visa through a tour agent in Uzbekistan. But that'll cost more money. however, I did the visa with a simple invitation letter which I purchased from one travel agency in Uzbekistan. It took around 10 days for the invitation letter to arrive.
The invitation letter will cost $80 USD for normal processing and that will take around 7 to 10 working days. There is also an urgent invitation letter which costs a little more. The first step is to pay the payment of $80 to the travel agent in Uzbekistan and they will apply for the invitation letter.
The agency in Uzbekistan has nominated us to handle applications for invitation letters from Pakistan because there were issues with sending payments to Uzbekistan for Pakistani applicants. That's why we will pay them on your behalf. If you are interested in getting the Uzbekistan invitation letter then simply contact us via email at everyvisa5@gmail.com or by WhatsApp number: +923112127101
You will need to send us your passport and cover letter on the company letterhead for applying for this invitation letter for an Uzbekistan visa. Also, you have to pay the invitation letter fee which is $80. You will need to pay via bank transfer the PKR = to USD on the payment day. If you are also visiting Kazakhstan then you can apply for a Kazakhstan visa invitation letter that's more expensive than Uzbekistan.
Note: currently as of (June 2023), Uzbekistan has stopped issuing invitation letters to Pakistani citizens. Once they resume, we will remove this message from the page.
How to Apply for Uzbekistan Visa from Pakistan with an Invitation Letter?
After you have the invitation letter in your hands, it's very easy to obtain the sticker visa on your passport. On the invitation letter, you have to mention the embassy of Uzbekistan where you want to go for a visa. In my case, I selected the Uzbek embassy in Tehran, Iran, because those days, I was there on a visit. I went to the embassy and got the visa within 30 minutes. I had to simply fill out a form and take two photographs to the embassy.
If you are in Pakistan and want to apply for a visa here then you will have to go to the Uzbek embassy in Islamabad and you will need to provide a few documents such as hotel booking and flight reservation. You have to pay a $55 USD visa fee at the embassy. so the total cost for an Uzbekistan visa will be $135. but it's totally worth it.
Before going to the embassy, make sure to take a printout of the invitation letter and a printout of completely filled visa application form which you can fill out online on this website, and then just take a printout of it: http://evisa.mfa.uz/evisa_en/
This is what the Uzbekistan visa would look like which I got from the Tehran embassy and then I got again it from Islamabad in Pakistan. The process is fairly straightforward and without any big hassle. I would personally suggest mentioning some other country in the invitation letter if you are going on a joint trip because in Islamabad the guys are a little bit tricky. If you are not going for a joint trip then you can simply obtain a visa from Islamabad too and that should not be an issue when you have an invitation letter.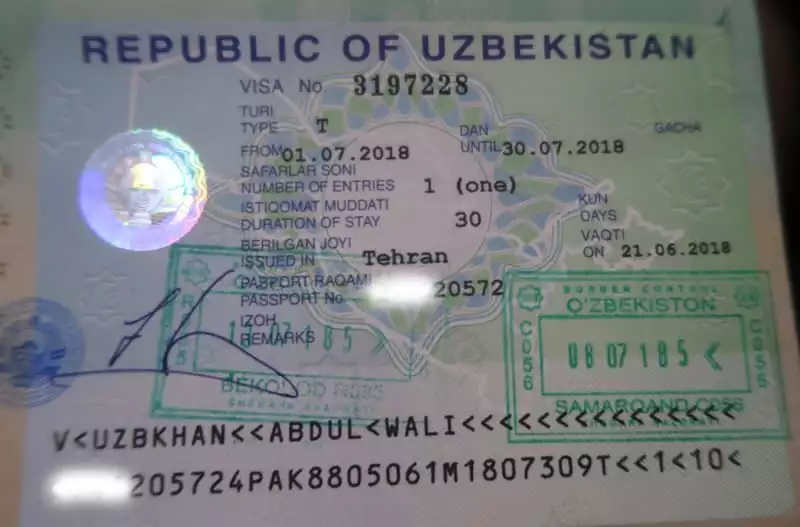 Do Pakistani passport need visa for Uzbekistan?
Yes. Pakistani passport holders need a visa to Uzbekistan. As a Pakistani, you will need to obtain an invitation letter before applying for an Uzbekistan visa in Pakistan. You can also apply without an invitation letter, but they will ask for extra documents and questions in the interview.
Is Uzbekistan visa on arrival for Pakistani?
No. Uzbekistan visa is not on arrival for Pakistan but if you have an invitation letter then there is an option to obtain the Uzbek visa on arrival at an international airport in Uzbekistan.
How much is an Uzbekistan visa from Pakistan?
The total cost of an Uzbekistan visa in Pakistan is $115 which includes the invitation letter's fee of $80 and the sticker visa fee of $55.
Is Uzbekistan good for tourism?
Yes. Uzbekistan is a great country for tourism with a lot of cultural activities and historical places such as Bukhara and Samarkand. The capital Tashkent is also a beautiful place to see the modern life of Uzbekistan. It's a must to visit place in Central Asia.