Bahrain visa for Pakistani passports is available on their official website. I myself have obtained this visa but I had a valid US visa as well. I applied online, provided all the information and documents and after seventeen days I received the visa via email. Let me share with you the complete process. This is basically an eVisa. If you are planning to visit Bahrain in 2023 on Pakistani passport then this guide is for you.
How to Apply for Bahrain Visa in Pakistan?
Bahrain has started an evisa system that works best for all. Pakistani passport holders are also eligible to apply for this visa but it depends on a number of factors. I personally obtained this visa in 17 working days. But I also uploaded a valid US visa as a supporting document. I would suggest checking the website for the latest updates and requirements. Below is the list of essential documents I provided for this visa online.
Required Documents for Bahrain eVisa:
Color Copy of Valid Passport
Photograph
Bank Statement for the Last 3 months
Hotel Booking
Flight Reservation
Supporting Document (Such as US/UK/Schengen Visa)
I uploaded my US visa in the supporting document field. When I applied for this visa back in 2020. I had paid $77 USD for this visa and I don't know what's the current policy. But I suggest you visit their official website and check your eligibility for a Bahrain visa online. Official Website for Bahrain Evisa. Always check this website for Bahrain visas online.
My Bahrain Visa Experience
The Bahrain visa was not hassle-free for me either. As it was stated on the official website of Bahrain that I can get an eVisa on a Pakistani passport. I applied for the visa online and received no reply for 12 days. I then contacted them by email because my travel date was approaching quickly.
After four days, they replied to my email with Evisa's approval. However, I was at the airport waiting for my visa and flight to Bahrain. Only after receiving the email, my trip to Bahrain was confirmed at the airport. I had my flight with Qatar Airways and thanks to the lady who helped me print the evisa at the airport.
It was a dramatic situation. I waited for the visa for 12 days because I did not want to confirm my flight before the visa. But when the time passed, I had no choice but to book a flight, and then the visa arrived at the last minute. Below is the evisa approval letter I received from Bahrain government.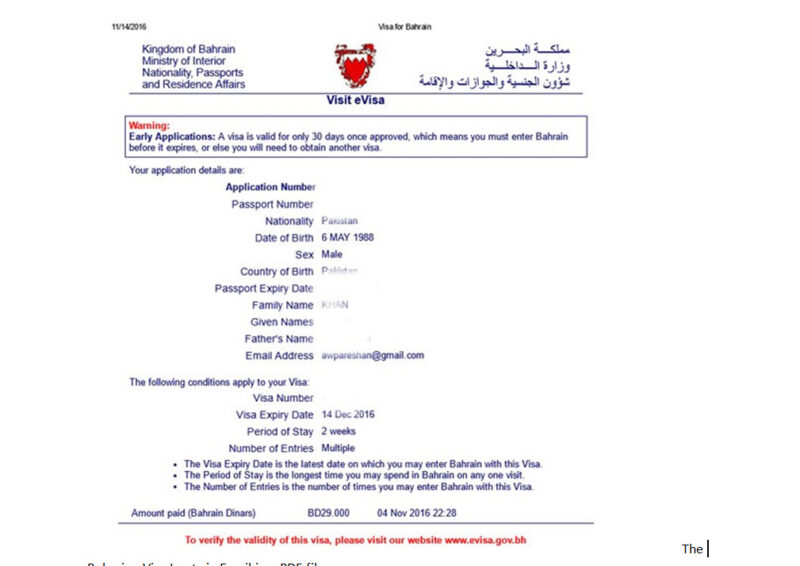 Immigration Experience at Manama Bahrain
After getting the visa at the last minute, I arrived at Manama international airport and went straight to the immigration counter because very few people were there. The officer checked my visa and he took some time to verify the visa in the system. Then he asked me only one question and that was about my hotel in Manama. I showed him my hotel booking and he stamped my passport.
Bahrain is a nice place to visit at least once but the visa process can be very dramatic and unpredictable. I was not sure if I would visit Bahrain until I got the email from the Bahrain Evisa department and I was waiting in Qatar for my next flight to Manama.
However, I have seen many people easily getting Bahrain evisa with valid US and other visas. Even if you have some relatives in Bahrain then the eVisa will be more easy for you. The visa guys can sometimes approve the visa in 3 to 4 days so it always depends on how they work. I would still suggest applying for at least 3 weeks before the travel date.