Algeria is a North African country with most people speaking the Arabic language. Algeria is the largest country in Africa by land area and it also has a very large population. Most citizens require a visa to visit Algeria and the same is the case for Pakistani passport holders. I will guide you on how to apply for Algeria visa in Pakistan in 2023.
Algeria is just facing the European continent and it's one of the most beautiful countries in North Africa. The country has vast natural sights for tourists and it's one of the most historic countries on the planet. Algerian civilization exist for thousands of years. However, the country is a little bit strict in issuing visas to tourists.
Types of Algerian Visas in Pakistan
The Algerian embassy in Islamabad, Pakistan is located in Sector E-7. It can process and issue many types of visas to Pakistani and Afghan visa applicants. You can apply for the following categories of visas to the Algerian mission in Pakistan:
Tourist Visa for Algeria
Business Visa for Algeria
Work Visa for Algeria
Algerian Embassy in Pakistan:
Address: 110 Street 9, E-7, Islamabad, Islamabad Capital Territory, Pakistan
Required Documents for Algeria Visa in Pakistan
The following are the required documents if you are applying for a tourist visa to Algeria from Pakistan. They might ask you for more documents depending on the type of visa.
Two application forms are fully completed and signed by the applicant.
Incorrect information will result in the refusal of a visa application
Original Passport and (one photocopy) valid for at least 6 months.
Two recent passport-size photographs (to be attached to each application)
A letter from your current employer (if doing a job)
Business registration & NTN (if doing business)
Hotel booking in Algeria
Flight reservation for the trip
For other nationalities a company letter and photocopy of a valid work permit
For those who have already visited Algeria please provide a photocopy of the previous visa issued by an Algerian mission
Additional documents for different visa types
This is a general list of documents for a visitor's visa or you can say tourism visa. However, if you are applying for a business or work visa then you will need to provide additional documents. They can also call you for an interview after processing your application. Mostly, they'll interview you when you are submitting the application at the embassy.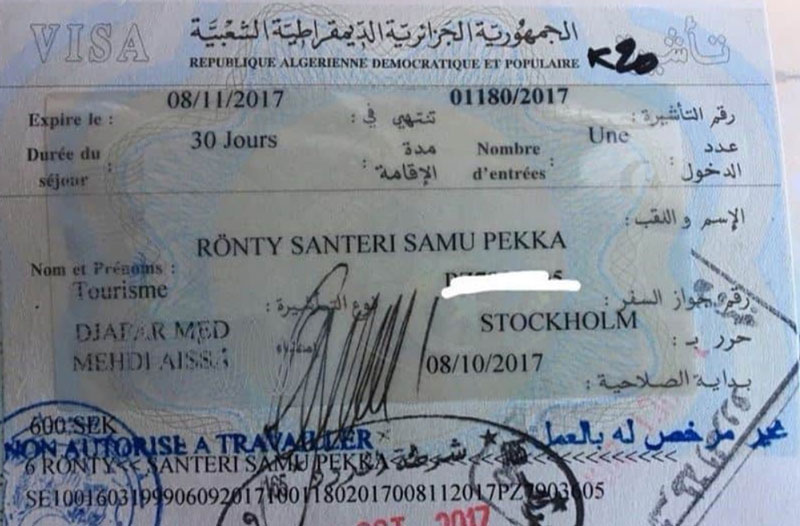 Processing Time for Algeria Visa in Pakistan
For tourism visas, they mentioned that the processing time will be 7 working days. That doesn't include Sunday and Saturday because these are public holidays in Pakistan. For work and business visas, it can take more time because the embassy will verify the information.
How Much is Algeria Visa Fee in Pakistan?
The Algeria visa fee is $30 to $60 USD depending on the purpose of your visit to Algeria. There is different visa fee for tourism and business purpose in Pakistan. This is the visa fee for a single entry visa, if you want a multiple entry visa then you have to pay more.
Is Algeria Visa Free For Pakistani Passport?
No. Algeria is not a visa-free country for Pakistani passports. Algeria even requires most countries in the world to apply for a visa in advance. Therefore, Pakistani citizens must obtain a visa in advance before making a travel plan to visit Algeria.
Who is the current ambassador of Algeria to Pakistan?
The current Algerian ambassador to Pakistan is Brahim Romani, who is concurrently also the non-resident ambassador to Bangladesh. The current ambassador of Algeria in Pakistan was recently appointed. The Algerian embassy in Pakistan is also accredited to Bangladesh.
Visa Consultant for Algeria Visa in Pakistan
If you need visa consultancy for Algeria or any other visa in Pakistan then we offer a paid consultancy by WhatsApp or Zoom in which you will be able to talk to Mr. Abdul Wali for 30 minutes and he'll guide you personally. Every person's situation is different and therefore, we give you the best possible advice according to your own situation. If you need an appointment then you can email (everyvisa5@gmail.com) or send a message on WhatsApp for booking an appointment on this number +923112127101.