Spain is a beautiful country located on the Mediterranean coast of Europe. Many Pakistanis are living in Spain as expats. The city of Barcelona is very famous among Pakistani people and therefore, many Pakistani travelers want to visit Spain because of its vibrant culture and landmark history. I will share the step-by-step guide on how to apply for Spain visa in Pakistan in 2023.
Types of Spain Visas in Pakistan
The Spanish embassy in Pakistan is located in Islamabad and it issues the following categories of visas to Pakistani citizens as well as Afghan citizens who are visiting Pakistan for applying Spanish visas.
Tourist Schengen Visa
Work Visa for Spain
Business visa for Spain
Humanitarian visa for Spain
Official Visit Visa
Family Reunion Visa
There are many visa types but for the simplicity of this guide, I will explain the short-term Spain visa that's mostly applied by people who want to visit Spain for tourism purposes. It's also called a short-term Schengen visa.
What's Spain Schengen Visa?
Spain is part of the broader Schengen area where one combined visa is issued by 27 countries from the European Union. These countries will issue you a single visa and you can visit the entire region of 27 countries with that single visa. That's why, Spain can issue a Schengen visa that will be valid for Spain as well as many other countries in the European Union including Germany.
The Schengen visa rule is that you should apply to the country that's your main destination in the Schengen area. If you are not sure which one is your main destination then you can select the country where you will spend most of your time in the Schengen area. For example, if you are visiting two countries i.e. Spain & Germany, and you will spend 7 days in Spain and 3 days in Germany then Spain is your main destination and you should apply for a Schengen visa through the Spanish embassy in Islamabad.
How to Apply for Spain Visa in Pakistan?
Now the main thing is how to apply for a Spain visa in Pakistan. The first step is to get a visa appointment for your application and then prepare your documents for submission to the visa application center in Pakistan. Basically, the Spanish visa application is handled by a third-party company called "BLS International". This outsourcing company will validate and process your application. They will submit it to Spain's embassy in Islamabad.
Please go to this link of BLS International and apply for an appointment. You can take short-term Schengen visa appointments if you are going to Spain for tourism purposes. You should also read the information on that website related to Spanish visas in Pakistan.
What are the Required Documents for Spain Visa in Pakistan?
After securing your appointment for a Spain visa in Pakistan. The next step is to gather all the required documents for a Spain visa in Pakistan and prepare your application. Below is the list of complete documents you need to submit with your application on the date of your appointment at the BLS international visa application center.
Schengen visa application form, duly filled in and signed by the applicant. All questions must be answered; otherwise, your application will not be accepted. Both parents (legal guardians if applicable) must sign the application of minors.
2 recent color passport-size photos with white backgrounds (gents with uncovered heads) have to be glued to the application form.
Original and photocopy of passport or official travel document:
Pakistani nationals: photocopy of the page with the personal data (and other relevant pages) and previous visas.
Non-Pakistani nationals: photocopy of pages with the personal data (and other relevant pages), previous visas, and the Pakistani residence visa.
All passports have to have been issued during the previous 10 years and should be valid for at least 3 months longer than the validity of the visa applied for.
Visa fee (80 Euro for Adults, 40 Euro for children)
Photocopy (full page) of your medical insurance (covering 30.000,00 €) including repatriation from any Schengen State in case of emergency. The medical insurance has to cover all your stay in all Schengen States.
Copy of Pakistani identity card (CNIC);
For non-Pakistani Nationals: proof of legal residence in Pakistan as appropriate (such as long-stay visa, and/or residence or work permit);
Flight reservation of air ticket (return round trip) from/to Pakistan and the Member State of destination;
If trips include several stops in the territory of the Member States, reservations of the intra-Schengen itinerary (train, flights, car rental);
Reservation of accommodation for the entire duration of the stay in the territory of the Member States (hotel, holiday home, camping, youth hostel); or
if residing with family, friends, and sponsor, proof of sponsorship and/or prívate accommodation. Some Member States may require proof of sponsorship or prívate accommodation to be submitted as per relevant official forms.
Family Registration Certificate (FRC) issued in English by NADRA (Pakistan National Database and Registration Authority). Some Member States may require, in addition, the information to be submitted as per their own prescribed format.
Bank statements showing movements in the last six months, duly signed and stamped by the bank;
National Tax Number Certificate (or proof of exemption if applicable); and
Federal Board of Revenue acknowledgment of tax returns for the last two fiscal years before the application date;
Other proof, supported by documents, of income-generating assets or other means of subsistence as applicable;
Pay slips for the last three months before the application date;
Copy of the employment contract;
An employer's letter stating the approval for a leave of absence, specifying the dates of absence, position, and salary of the employee, duration of employment, the purpose of absence, and contact number of employer.
If the applicant is a company owner or self-employed: certificate of registration of the company and Chamber of Commerce certificate;
If the applicant is a civil servant/government employee: Non-Objection Certificate (NOC) issued by the Administration/public service employing the applicant stating the dates of the intended visit (for travel other than those for official purposes – see point 2);
If the applicant is retired: pension statements for the last six months;
If the applicant is sponsored: Proof of sponsorship. Some Member States may require that proof to be submitted as per relevant official forms.
If the applicant is a student: Proof of enrolment at the university and student's card.
These are the required documents for Spain's visitor's visa for different type of people. However, if your purpose is different then you will have to provide additional documents. For example, if you are applying for a business visa then you will need to provide business documents and maybe invitation letter from Spain.
What is the visa fee for Spain from Pakistan?
The visa fee for a Spain visa in Pakistan is Rs.24,000 as of July 2023. For children, the visa fee is Rs.12,000 and this fee is actually in Euro but you have to pay in cash in PKR. Children under 6 years old don't need to pay visa fees. The visa fee is non-refundable.
The BLS international also has a service fee that's in addition to the visa fee applied by the Spanish embassy in Pakistan. The service charges are to be paid when submitting a visa application at the BLS international office in Islamabad, Karachi, and Lahore.
Processing Time of Spain Visa in Pakistan
The processing time for a Spain Schengen visa in Pakistan is approximately 15 calendar days. But it's advised to apply at least one month before your planned trip to the Schengen area. Sometimes, the visa process may take more time because of missing documents and if the embassy decides to invite the applicant for an interview. You can always track your Spain visa application on the BLS international website.
Always try to provide complete documents and a proper application to avoid the hassle of being rejected and delay in your application for a Spain visa in Pakistan. You can speed up your application by providing complete documents at the time of visa submission.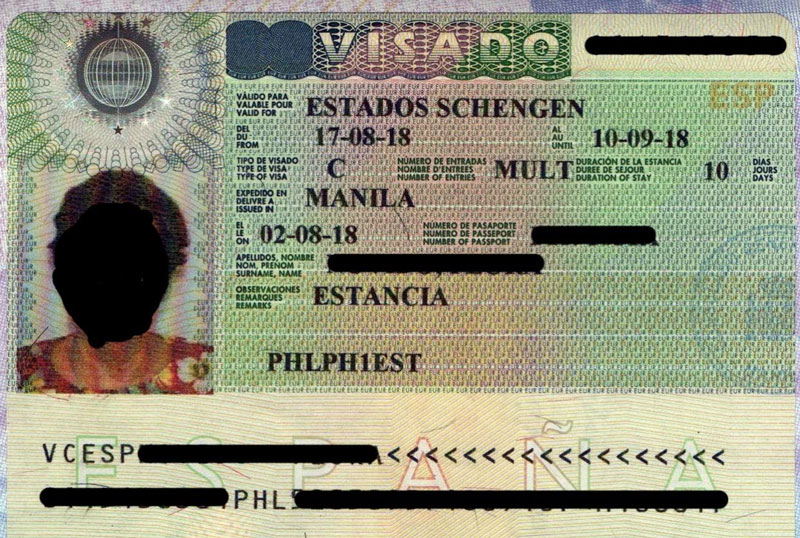 My Best Tips for Spain Visa in Pakistan
I always advise my readers to apply with good faith and honestly provide all the documents and information. If you lie in your application then it can create problems for you in the future. Also, don't provide too many documents. Just provide the ones required for the visa processing. Don't provide property and car documents.
Provide a clear and short travel plan in the cover letter and don't complicate things. Include one or two Schengen countries in your application if this is your first Schengen visa. If you add many countries then it will be difficult to get a visa. Also, plan a short trip like 7 to 10 days, and provide paid hotel booking + some paid packaged tour. You can always cancel your bookings if the visa is rejected. Always book hotels and tours which can be canceled.
Don't be afraid of telling the truth. Always mention your visa rejections and if something wrong has happened in the past because this will show your trustworthiness and honesty. If you hide information then the officer will doubt you for future visas.
Note: If you need visa consultancy for a Spain visa then we offer a paid consultancy by WhatsApp or Zoom in which you will be able to talk to Mr. Abdul Wali for 30 minutes and explain your situation. You can book an appointment for visa consultancy by contacting us via email (everyvisa5@gmail.com) or by messaging us on WhatsApp: +923112127101.
Frequently Asked Questions for Spain Visa in Pakistan
How much bank balance is required for Spain tourist visa?
There are no exact requirements for bank statements. However, there should be enough money to cover your trip to the Schengen area. Generally, Spain expects you to have 100 Euro per day.
Is Spain visa easy in Pakistan?
It depends on your individual circumstances. No visa is easy or difficult in Pakistan. If your background is strong and you have a good travel history then your chances are high for visa approval.
Is Spain visa open in Pakistan?
Yes. Spain visa is open in Pakistan and the covid-19 era restrictions are not longer in place. You can apply for a Spanish visa by getting an appointment from the BLS international website in Pakistan.
How much money is enough for Spain?
You should have 100 Euro per day if you are applying for Spain visa in Pakistan because that's the minimum per day expenses in Spain.