Australia is the largest island country in the world and has beautiful marine life. The Australian peninsula was once part of the British Empire. If you are from Pakistan and planning to visit Australia then you are at the right place. I will share with you step-by-step information on how to apply for Australia visa in Pakistan in 2023.
Types of Australian Visas in Pakistan
Australian home affairs are responsible for receiving visa applications. There are many types of Australian visas that one can apply for including humanitarian visas, tourist visas, business visas, sports visas, and cultural visas. You can choose the visa class on the official website before submitting your visa application for an Australian visa.
How to Apply for Australia Visa in Pakistan?
The process of applying for an Australia visa is simple and straightforward. You can apply online yourself. You will need to create an account on the official website of the home affairs of the Australian Government. Once you create the account, you will need to fill out the visa application online and also upload the documents online.
Please go to this link to create an account on the official website.
Once the documents are uploaded to the online IMMY account, you will need to submit the visa application and pay the required fee which is 145 Australian dollars. After payment of the fee, you will need to go to the Australian visa application center in Pakistan and submit your biometrics for an Australian visa in Pakistan. Please visit the VFS Global website for that.
Required Documents for Australian Visa in Pakistan
The required documents for an Australian visa are the ones also required for a Schengen visa. The only addition is the Polio certificate because the Australian government is very careful with the Polio affected countries. Therefore, you must upload a valid Polio certificate.
The passport must be valid for 6 months
Copies of all pages of the passport
For foreigners, a Pakistani visa or residence card
A passport-sized photo
Flight reservations
Hotel booking for the entire stay
Sponsorship letter if staying with friends or relatives
Bank statement for the last 6 months
National tax number (NTN)
Employment letter
Salary slips for the last 3 months
NO objection certificate from the employer
For retired people; pension documents
Student card (for students)
Consent letter from the parent (if a minor is traveling with one parent)
Business registration documents (for business people)
Chamber of Commerce certificate (for business people)
For civil servants NOC from the department
Polio certificate
You will just need to upload the scanned copies of these documents. You don't need to send them in original form. Furthermore, you will be asked to upload the exact documents required by the Australian government once you complete filling out the online visa application. Therefore, I suggest that you first fill out the online application form and at the end of the application, you will need to upload the required documents. You will see the exact list of documents to upload after you complete the application.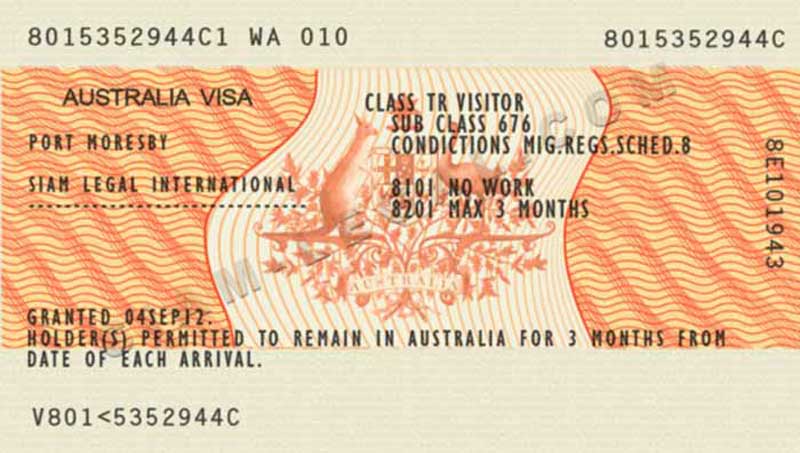 How much is the visa fee for Australia from Pakistan?
The Australian visa fee in Pakistan is 145 AUD for a tourist visa called subclass 600. For other visas, the fee is different and the biometric fee is also charged by the VFS Global company in Pakistan that's an outsourcing agency for the visa application process.
How long does it take to get an Australian visa from Pakistan?
The process of Australian visa application in Pakistan takes around 20 to 30 days on average. This processing time is for tourist and business visas. If you are applying for student and PR visas then that might take more time because of the complexity of the application.
How much bank statement is required for an Australian visa?
There is no exact answer to this question but as they say, the more the better. I personally suggest that you have at least one million PKR in your bank account before you apply for an Australian visitor's visa in Pakistan. That's enough to cover your trip's expenses.
Australia Visa Consultant in Pakistan
If you need visa consultancy for Australia or any other visa in Pakistan then we offer a paid consultancy by WhatsApp or Zoom in which you will be able to talk to Mr. Abdul Wali for 30 minutes and he'll guide you personally. Every person's situation is different and therefore it's important to discuss your circumstances. You can email (everyvisa5@gmail.com) or send us a message on Whatsapp at +923112127101 to book an appointment.