Azerbaijan has introduced a new evisa website in collaboration with VFS global. Pakistani passport holders are eligible to apply for Azerbaijan evisa. I will share the entire process of applying for an Azerbaijan visa from Pakistan because it's an online process.
Note: We provide complete visa service for Azerbaijan visa. If you have any difficulty or worry about getting Azerbaijan evisa then simply contact us and we will process it for you.
What is the Visa Policy of Azerbaijan for Pakistan?
Azerbaijan had started the evisa system in 2017 and Pakistan was included in the list of countries whose citizens can apply for evisa to Azerbaijan. In 2022, after the Covid pandemic, Azerbaijan has created a new official website for evisa in collaboration with the VFS global. Now you have to apply for Azerbaijan evisa through this new website. Pakistan is among the 71 countries eligible to apply for an evisa to Azerbaijan. Azerbaijan comes in the list of visa-free countries for Pakistan because the process is very easy & straightforward.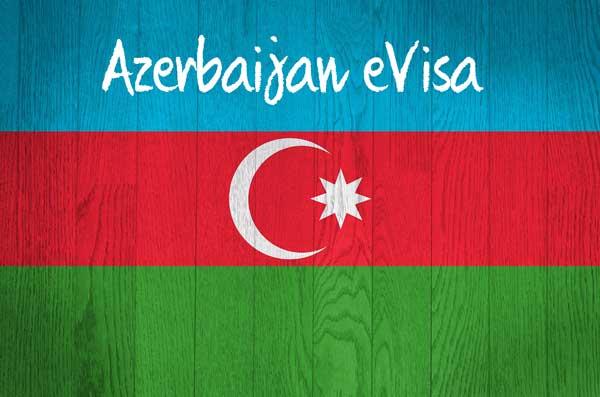 Azerbaijan eVisa Requirements for Pakistani Citizens
Although Azerbaijan allows Pakistani passport holders to apply for evisa online there are some requirements you have to fulfill while applying for this visa. Here is the list of exact documents you will need while applying for Azerbaijan evisa online.
Passport scanned copy
The hotel address in Azerbaijan
Local address in Pakistan
Azerbaijan evisa system doesn't ask for too many documents. You will just need to upload your passport's scanned copy and hotel address in Azerbaijan. If you haven't yet booked your hotel then you can simply go to Agoda.com and add any hotel address that's located in Azerbaijan.
Types of Visas Available
You can apply for any type of evisa online. The purpose of your visit will determine which visa you need to apply for using the online visa system. Below is the list of visas you can apply for through the online system.
Tourist visa
Business visa
Student visa
Science visa
Personal visa
Official visa
Humanitarian visa
Labor visa
Sports visa
Cultural visa
Medical visa
These are the types of visas you can apply for through the online evisa system. When you are filling out your application then simply, you can select the type of visa related to the purpose of your visit.
Can I apply for an Azerbaijan family evisa?
You can apply for a family evisa to visit Azerbaijan. However, you have to separately fill out the application for every member of your family. Even infants and children require separate evisa application in the system. You will need to enter all the information for every applicant. Visa fee is also the same for every evisa applicant regardless of age.
Azerbaijan eVisa fee for Pakistani citizens
Azerbaijan evisa is not free for Pakistani passport holders. You have to pay a fee to apply for Azerbaijan evisa online. You can pay only by credit card or debit card that's enabled for online payments. Below is the visa charges fee for both Urgent and normal visa.
$25 USD for normal visa processing (3 working days)
$60 USD for urgent visa processing (3 hours)
If you are not in hurry then simply apply for the normal evisa that will be decided within three working days and it only costs $25 USD for Pakistani citizens. If you have an emergency then you can apply for an urgent visa.
Validity and processing time of Azerbaijan evisa
Processing time for normal evisa is 3 working days but in some cases, it may take up to 7 days. Processing time for urgent visas is 3 hours but in some cases, it may take up to 24 hours. The validity of Azerbaijan evisa is 90 days and you can stay for up to 30 days in Azerbaijan. This visa is generally good for a short stay in Azerbaijan. You can extend your stay in Azerbaijan by contacting the migration services of the Republic of Azerbaijan.
Why my Azerbaijan eVisa is rejected?
In rare cases, Azerbaijan evisa can be rejected because of some security issues. If you have ever visited "Nagorno Karabakh" or any parts of Azerbaijan that's occupied by Armenia since 1991 without permission from the government of Azerbaijan then you will most likely be rejected for visa and entry to the Republic of Azerbaijan.
Your evisa can also be rejected on health grounds. If you have ever had TB or hepatitis B virus then you will likely be refused entry to Azerbaijan. If you have been refused wrongly then you can apply again for evisa through the online system.
Can I track my visa application?
Yes, you can easily track your evisa application. Normally, it takes 3 working days which is a very short time and you will not need to track your evisa application. But if you are still in hurry and want to check the status of your evisa then you can do so by going to the link.
Is the fee refundable if my visa is refused
No, if your Azerbaijan evisa is refused then you can't get a refund. This is the case with most visa applications not only in Azerbaijan. However, visa refusal happens in rare cases.
Best Tips for Azerbaijan eVisa
If you are applying for Azerbaijan evisa then my suggestion is to add personal information carefully. If you did a mistake in filling the form and the data did not match your passport then your application will be refused. If you got the visa with incorrect information that's not matched with your passport then you might be denied entry to Azerbaijan by the immigration police. Therefore, it's crucial to add the correct information.
Secondly, select the correct visa type. If you are visiting Azerbaijan for tourism then select the tourism visa. If you are going to Azerbaijan for Business then select the business visa.
Don't overstay in Azerbaijan because it will bring a bad name to Pakistan and Azerbaijan might exclude Pakistan from its evisa eligible countries. Many Pakistanis try to remain in Azerbaijan despite their visa expiry which is bad practice and you should avoid that.
Note: If you need visa consultancy about Azerbaijan visa or any other visa then I offer a paid consultancy by WhatsApp or Zoom call in which you will be able to talk to me for 30 minutes and explain your situation. You can book an appointment for visa consultancy by contacting us via email (everyvisa5@gmail.com) or by messaging us on WhatsApp: +923112127101.
Conclusion
Azerbaijan evisa is one of the easiest visas to obtain with a Pakistani passport. I have personally visited Azerbaijan many times with this visa. The fee for this visa is also very reasonable if we compare it to other evisa programs. Azerbaijan is a very beautiful country and the people are so friendly, they love Pakistan a lot. There are many flight options available to visit Azerbaijan from Pakistan. Enjoy your time in Azerbaijan.